I recently moved to Madison, Wisconsin and have since become very excited about isthmuses. Madison is located on an isthmus between Lake Monona and Lake Mendota. The west side of the isthmus is the University of Wisconsin Madison campus. Between campus and the center of the isthmus is the state capital. Other cool cities on an isthmus include Manilla and Seattle.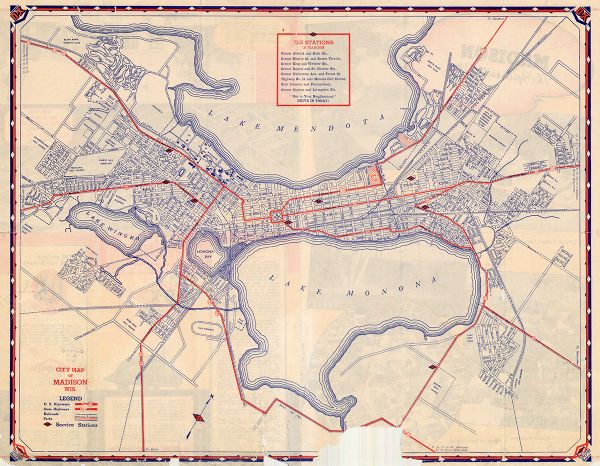 The Madison isthmus is feels different from anywhere else I've lived for a couple reasons. The first reason is the confusing notion of being simultaneously north of a lake and south of a lake. For most of my commute, Mendota is in view or just barely hidden by trees. Sometimes I turn around and I can still see a lake! It's still quite startling (did I mention I lived in Cleveland, OH for 12 years?), but the views are worth it.
Secondly, there are really only a few major roads and they all run parallel to each other (long-ways along the isthmus). The other roads are perpendicular to the isthmus and would take you directly from Monona to Mendota. The roads are on an easy to navigate grid system! But, the grid isn't on the normal north-south angle… everything is rotated roughly 45 degrees (check out the north arrow on the map above!) and I just can't figure out how to describe where I'm going. Beyond the confusing angle of the grid, this city structure has two big consequences. Traffic is awful compared to comparably sized non-isthmus cities, and the short roads that run perpendicular to the isthmus don't get plowed very quickly after storms.
These are relatively small things, but it's neat to live somewhere with so many reminders that geography matters. And I'm gonna say it one last time– the views from the isthmus are gorgeous.
Why do we build cities on isthmuses, besides the aesthetics? The main reason is that they're strategic places for trade and military use. You can even build a canal into an isthmus to connect the two bodies of water. Two important examples of this would be the Panama canal connecting the Atlantic Ocean/ Gulf of Mexico and Pacific Ocean, and the Suez Canal connecting the Mediterranean Sea to the Red Sea. The Panama canal is crucial to shipping goods around the northern hemisphere without having to go all the way south of Argentina.
But here's the question that keeps bothering me: if you build a canal on an isthmus, did you turn your isthmus into two peninsulas? A peninsula is only connected to a larger land mass on one side and is otherwise surrounded by water, whereas an isthmus connects two larger land masses and divides two bodies of water. Other people on the internet say that isthmuses with man-made canals are in fact, still isthmuses. I'm not sure I agree with this popular opinion, and I recognize that it doesn't really matter, but it's a fun thing to think about while I bike the Yahara River Bike Path (which follows a canal that connects Mendota to Monona)!
Sources: Nat Geo, Wisconsin Historical Society, and List of Isthmuses